Owl diaper cake: the guide to making it yourself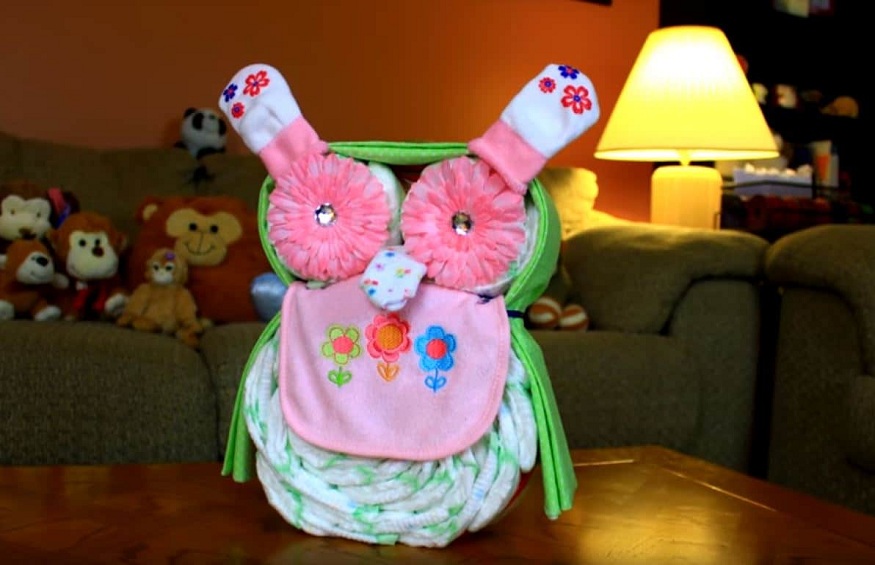 Making a personalized baby shower gift is no easy task, but adding practicality to it makes it even more difficult.
Fear not, because the owl-shaped layer cake meets all of these criteria and besides… it's absolutely adorable!
As with many other gifts made from diapers, the owl offers many storage possibilities to hide small gifts for the baby and the parents-to-be. We'll walk you step by step through making your layered owl and give you tips on choosing color and decor.
Step by step making your owl diaper cake
With scissors, colored paper, and a few layers, you can create a very personal layered owl in no time. Two big eyes and a big belly made of layers and the gift is ready.
For your layered owl you will need:
Diapers, size 3, 50 pieces
A baby bodysuit
A fleece fabric
A pot
A pair of baby socks
Colored paper
Colorful decorative ribbon
Paper towel
Elastics, scissors, wide tape and glue stick
Other baby gifts and accessories
The first step is to go to the stores and think about the choice of colors. You have three possibilities: to make an owl for boys, for girls or with neutral colors . Cool colors such as different shades of blue and gray work well on boys. For girls shades of pink, white and light beige always work wonderfully.
If you do not yet know the gender of the child or you want to avoid the typical colors for boys and girls, you can always make your baby shower gift with neutral colors, such as green, yellow or white.
Another solution is to study color theory to understand complementary colors . For example, the colors red and green, blue and orange, and purple and yellow go hand in hand. Choose a color and make a skillful assembly with the corresponding complementary color, then you will see how these accentuate each other.
If you know not only the gender but also the baby's first name, you can make a personalized diaper cake . It is not uncommon to find pacifier clips in stores with the names of children – maybe the first name you are looking for is there too? Alternatively you can also make a pretty label for your layered owl using the colored paper.
If you have what you need, then the creation can begin.
make the belly of the owl with layers:
To make the belly of the owl you have to roll layers to form a wide cylinder and There are several ways to do it:
For the first variant you will need a very long piece of paper towel and a large adhesive tape. Fold the left and right thirds of the paper towel toward its center. Then secure the folded paper towel with wide adhesive tape so that it does not tear when you roll it up. As with the diaper teddy bear or the diaper motorcycle , you can also use a sturdy tape instead of the paper towel.
Place the paper towel or ribbon flat on a table in front of you and place the first layer at the beginning. Now line up the following layers in the same way. The layers should overlap about a third.
For the first part of the belly, you need 15 layers , which you will roll up taking care that the layers and the ribbon remain well centered.
Once you have rolled up the first 15 diapers, you can cut the paper towel or tape and secure it to the diapers with duct tape. more info to visit: http://yournewsfind.com/